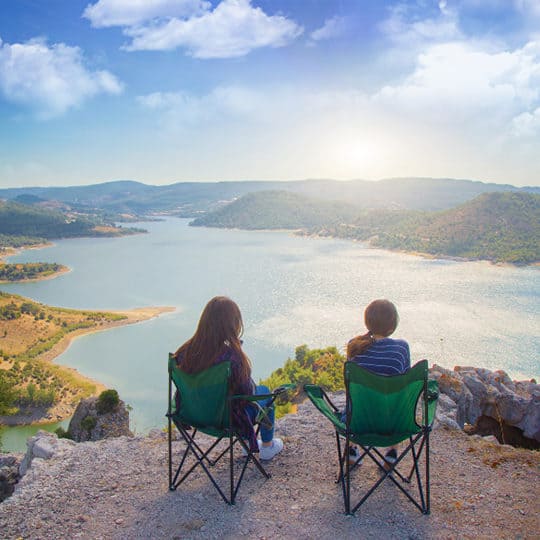 Money Market Accounts
Save towards a better future and a cleaner planet.
Put Your Money to Work for the Planet
You don't have to lock your money away to earn dividends– or invest in clean energy. With a Money Market Account, you can earn more dividends with a deposit of at least $2,500 while having access to your funds* at any time.
A Safe & Secure Way to Save More
When you open a high-yield money market account with us, your dollars help us fund green loans, making clean energy accessible to all. Plus, your deposits* are protected up to $250,000 by the NCUA.
No Monthly Maintenance Fees
Your earnings are yours to keep, which is why we don't impose fees to maintain your account.
Higher Interest for Larger Balances
The more you save in a Money Market Account, the more you earn in dividends.
Flexible Access to Your Funds
While you earn dividends, your full balance is available to withdraw or transfer at any time. Meet us online to transfer funds and view your account balance.
Today's Rates
Money Market Account Rates

Deposit Balance1 2

Dividend Rate

APY

1 Minimum opening balance requirement = $2,500; ongoing minimum monthly balance requirement = $0.

2 Dividend rates for an IRA Money Market Account are 0.05% higher than the standard rates shown here.

$2,500 – $9,999

0.95%

0.95%

$10,000 – $49,999

1.02%

1.02%

$50,000 – $99,999

1.20%

1.21%

$100,000 – $199,999

1.30%

1.31%

$200,000

1.45%

1.46%
Calculate the Potential Earnings for Your Dollars
Got Questions? We've Got Answers.
Savings accounts require a $5 minimum balance to maintain the account (and to maintain your membership in the Credit Union). Checking accounts require a $25 minimum deposit to open the account, but no ongoing minimum monthly balance is required. Money market accounts require a $2,500 minimum balance to maintain the account.
Because we are a federally chartered credit union, all deposits will be federally insured up to the allowable limits (e.g. up to $250k per person or per organization). This makes opening a deposit account or buying a "clean energy CD" far less risky than any other kind of investment in the clean energy sector. Furthermore, with low minimum investment thresholds, regular people—not just big financiers—will be able to leverage their dollars to support clean energy through safe, sound investments.
All deposits in Clean Energy Credit Union are insured by the National Credit Union Share Insurance Fund (NCUSIF). According to Wikipedia: "[The NCUSIF] is administered by the National Credit Union Administration (NCUA) for the purpose of providing deposit insurance to protect deposits of credit union members at insured institutions in the United States. It was created in 1970 shortly after the creation of the NCUA as an independent regulator of credit unions. The NCUSIF is funded completely by participating credit unions, and no taxpayer dollars have ever been used to bail out a credit union. The NCUSIF is backed by the full faith and credit of the United States government."
An ACH transfer refers to any electronic movement of money between different financial institutions that goes through the Automated Clearing House (ACH) network, one of the biggest U.S. payment systems that has been around for almost 40 years. ACH transfers are commonly used for online bill pay, and direct deposit, and transferring funds between financial institutions. For example, PayPal and Venmo, both use the ACH network. ACH transfers are more convenient and less expensive than wire transfers, which typically incur fees both the sending and receiving financial institutions.
Since Clean Energy Credit Union isn't initially offering checking accounts, we're hoping that you'll move your savings account to Clean Energy Credit Union while retaining your current checking account. You would then be able to easily transfer funds between your accounts in Clean Energy Credit Union and your other financial institution via a free ACH transfer on your computer or mobile device.
Yes, you can either click on the "Chat" bottom at the top and bottom of each page on our website, or you can call us at 720-479-7900.
Sometimes the size of an electronic transfer or mobile check deposit will exceed our standard limits. To request an increase to your transfer or deposit limits, contact us at [email protected] or 720.479.7900.
First, you need to ensure that you're eligible to join Clean Energy Credit Union by being in its "field of membership," which currently includes being one of the following:
A member of one of the following organizations:

An employee or volunteer of one of the following organizations:

A member of the immediate family or household of someone who is eligible via one of the above options or of someone who is already a member of Clean Energy Credit Union
If you're not already eligible to join Clean Energy Credit Union, you can consider joining one of the above organizations. An individual membership in American Solar Energy Society, for example, currently costs as little as $10 (NOTE: you must enter the discount code and select a Digital-Only Basic membership). Click here to learn more about the field of membership partner organizations listed above.
After confirming your eligibility, you would then open a "share account" (i.e. savings account) with a $5 minimum deposit which would serve as your ownership share in Clean Energy Credit Union. Once someone becomes a member of the Credit Union, they are a member for life. Click here to join Clean Energy Credit Union.
In case it helps, here's some background on what a credit union "field of membership" is: although credit unions provide similar services as banks, they are different from banks in many ways. For example, a credit union is a not-for-profit, financial services cooperative that exists solely to serve its members and to fulfill its mission, whereas a bank exists to maximize financial returns for its stockholders. Another difference is that a bank can serve the general public whereas a credit union can only serve its "field of membership," which is defined by regulators as the people and entities that are legally eligible to join the credit union. Ultimately, a credit union's field of membership is comprised of one or more groups of people and entities that all have something in common that binds them together in some way. Many credit unions have a field of membership that includes people who work for a certain employer, or who live in a certain geographic area, or who are members of the same professional association or religious organization.
Open a Checking Account Today
Call Us
720-479-8000
Monday-Friday
10:00 am to 3:00 pm MST
Chat Us
Chat hours are Monday-Friday, 8:30am to 5pm MST.