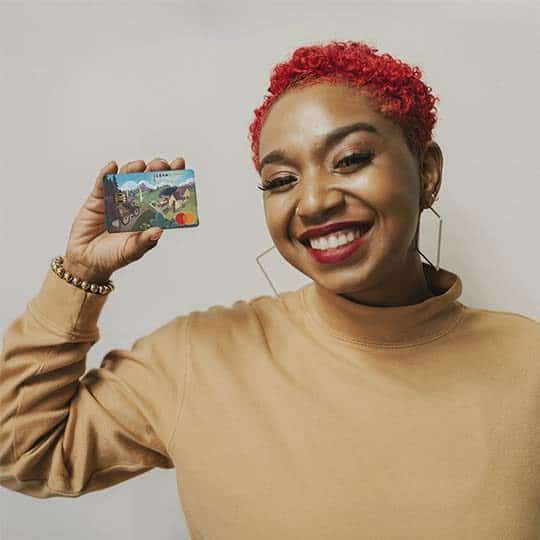 Checking Accounts for Members.
Rewarding returns for you and the environment today!
Where Your Money Powers the Clean Energy Movement
By opening a checking account, your dollars go to fighting climate change directly and helping others afford clean energy.
Earn 3.56% APY Interest On Your Dollars
Get rewarded for things you already do – like using your debit card, receiving payroll deposits, opening a clean energy loan, and having an average deposit balance of $2,500 or more. See the conditions below.
Checking Accounts

Deposit Balance1

Dividend Rate2

APY

1 Minimum opening balance requirement = $25; ongoing minimum monthly balance requirement = $0
2 Rewards checking dividend rate applies in any given month where any two of the following conditions are met:
– 10 debit card transactions in that same month;
– At least $1,000 in direct payroll deposits in that same month;
– An outstanding Clean Energy Loan (of any type) in that same month;
– At least $2,500 on deposit (combined average balance in all accounts) in that same month.

Limited to one Rewards Checking account per member account (individual or joint)

Any Balance

0.01%

0.01%

$0-$15,000 (with reward checking)2

3.50%

3.56%

> $15,000 (with rewards checking)2

0.12%

0.12%
Climate-Friendly Banking with All The Benefits
Enjoy the convenience and benefits of our Rewards Checking with the full confidence that your dollars are having a positive impact on the planet. And the best part? No monthly maintenance or overdraft fees.
Climate-friendly debit cards
Our debit cards are made from bio-based, industrially compostable, polylactic material.
No fees on cash back
When it comes to cash back, rest assured that you won't have to pay any fees with point-of-sale transactions.
Shared Branch & ATM Network
Take advantage of over 32,000 shared ATMs or 5,600+ shared credit union branches throughout the country.
Member Service Team
Call us for help with questions or to process phone transactions.
Better Banking Tools for a Cleaner Future
When you align your money with your values, the world becomes a better place. By banking with us, you can limit your carbon footprint and help others do the same.
Protect your funds with Card Controls
Freeze or lock your debit card, add alerts, and set spending or withdrawal limits.
Mobile Wallet
Use your debit card via Apple Pay, Google Pay, and Samsung Pay.
Online Banking
User-friendly, 24/7 access to your account from any computer.
Mobile App
Account management at your finger tips from any tablet or mobile device.
What is the Impact of Your Dollars?
Calculate the Carbon Offset of Your Accounts.
Got Questions? We've Got Answers.
First, you need to ensure that you're eligible to join Clean Energy Credit Union by being in its "field of membership," which currently includes being one of the following:
A member of one of the following organizations:

An employee or volunteer of one of the following organizations:

A member of the immediate family or household of someone who is eligible via one of the above options or of someone who is already a member of Clean Energy Credit Union
If you're not already eligible to join Clean Energy Credit Union, you can consider joining one of the above organizations. An individual membership in American Solar Energy Society, for example, currently costs as little as $10 (NOTE: you must enter the discount code and select a Digital-Only Basic membership). Click here to learn more about the field of membership partner organizations listed above.
After confirming your eligibility, you would then open a "share account" (i.e. savings account) with a $5 minimum deposit which would serve as your ownership share in Clean Energy Credit Union. Once someone becomes a member of the Credit Union, they are a member for life. Click here to join Clean Energy Credit Union.
In case it helps, here's some background on what a credit union "field of membership" is: although credit unions provide similar services as banks, they are different from banks in many ways. For example, a credit union is a not-for-profit, financial services cooperative that exists solely to serve its members and to fulfill its mission, whereas a bank exists to maximize financial returns for its stockholders. Another difference is that a bank can serve the general public whereas a credit union can only serve its "field of membership," which is defined by regulators as the people and entities that are legally eligible to join the credit union. Ultimately, a credit union's field of membership is comprised of one or more groups of people and entities that all have something in common that binds them together in some way. Many credit unions have a field of membership that includes people who work for a certain employer, or who live in a certain geographic area, or who are members of the same professional association or religious organization.
You can open an account by applying online here. There is a $25 opening deposit required, but no ongoing minimum monthly balance required after that. In order to open a checking account, you must also open a savings account.
Savings accounts require a $5 minimum balance to maintain the account (and to maintain your membership in the Credit Union). Checking accounts require a $25 minimum deposit to open the account, but no ongoing minimum monthly balance is required. Money market accounts require a $2,500 minimum balance to maintain the account.
If you have a checking account and a debit card, you can make up to five free ATM withdrawals per month from any of 32,000+ MoneyPass® shared ATM machines throughout the USA (and international travelers can use any of 2.1 million Cirrus ATM's worldwide where fees may apply). You can download the MoneyPass® mobile app to locate the nearest network ATM. You can also use your debit card to get free cash back at the "point of sale" (e.g. when making a purchase at your local grocery store).
There are a variety of ways you can utilize our services including:
Online Banking: You can access your accounts securely from any computer with our user-friendly online banking platform. Members can easily:

View account balances and up to 90 days of transaction history
Transfer funds between your Credit Union accounts or other U.S. financial institutions
Schedule or cancel transfers, and track transfer history
Leverage Bill Pay services
Manage your debit card with card controls

Mobile App: Our secure mobile app also allows you to manage your account from your tablet or mobile phone. Download the app and get access to:

Mobile check deposit
Account balances and transactions
Schedule bill payments
Transfer money between your accounts
Locate ATM and shared branch locations
Leverage Bill Pay services

Shared Branches: Our shared branch network allows members to perform a range of transactions at other credit unions throughout the country. Find a location near you.
Mail: You can mail checks for deposit to us at Clean Energy Credit Union PO Box 4233 Englewood, CO 80155
Depositing funds into your account is easy with our mobile deposit feature within the Clean Energy Mobile Banking App. If you haven't already, download the app from the app store. Log in to the app. Tap the "Check Deposit" option at the bottom of the screen. Follow the instructions to take photos of the front and back of your endorsed check.
Ready to Take the Next Step?
Chat Us
Chat hours are Monday-Friday, 8:30am to 5pm MST.
Call Us
720-479-8000
Monday-Friday
10:00 am to 3:00 pm MST