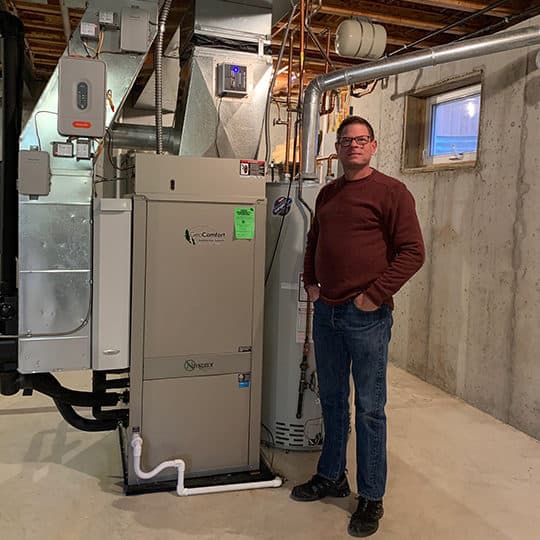 Geothermal Heat Pump System Loans
Power your home with cost-effective clean energy sourced from right below your feet.
An Energy Efficient Way to Heat & Cool Your Home
More than half of the energy used in your home is for heating and cooling, which can vary with the seasons. Swap your fluctuating energy bill for a fixed loan payment instead.
Pay Less & Protect the Planet
Choose a more efficient way to heat and cool your home, while lowering your energy bills and reducing your carbon footprint.
Energy Independence
Geothermal energy doesn't depend on weather conditions. It's constantly supplying energy from the earth's core without releasing harmful greenhouse gases into the atmosphere.
Lock in Your Payment
Borrow up to $90,000 and gain peace of mind with a fixed rate instead of paying fluctuating energy bills.
Fixed Rates
We offer 12, 15, or 20-year fixed rates on loans so you don't have to worry about rising rates for the duration of your term.
No Prepayment Penalties
Interested in paying off your loan sooner rather than later? No worries — we'll never penalize you for doing just that.
Automatic Payments
Never miss another payment again when you set up automatic loan payments from your checking account or credit card.
Geothermal System Combo Loan
Combine both Short Term and Fixed-Rate Long Term loan options to create a Geothermal System Combo Loan that gives you an optimized, no-money-down finance strategy to install a geothermal system in your home.
Short Term Loan
With this option, you get a 12-month or 18-month loan that covers your geothermal tax credit. It's available for new residential geothermal systems at up to 30% of the eligible price cost.
Fixed-Rate Long Term Loan
We also offer a 12, 15, and 20-year fixed rate loan on the remaining portion of your geothermal system cost or up to 70% of the eligible project cost.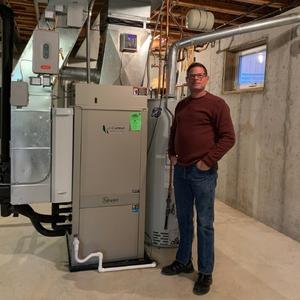 Clean Energy Credit Union helped me replace my conventional HVAC system with a super-efficient geothermal HVAC system (with hot water preheat). It's powered by my solar PV system and greatly reduces my home energy costs, environmental footprint, and reliance on the utility company.

— Jerry
Today's Rates
Geothermal System/Ground-Source Heat Pump Loans

Loan Type

Min/Max Loan Amount

Term

APR as low as

1 Secured via a UCC-1 filing on any repossessable equipment; you will be charged a flat filling fee that depends on number of filings required, FICO score, loan amount, and project location which shall be either $100 or $250 (or $350 in CA, FL, IL, MD, PA, and TN).
2 Loan processing fee: $100 due at funding.
3 The combined amounts of a short-term and long-term loan cannot exceed 100% of the project cost.

The short-term loan amount is typically 30% of the project cost, and the long-term loan amount is typically for the remaining balance (70% ). In certain instances, the member may choose to go above 30% for the short term loan or 70% for long term loans.
4 Rate shown assumes that short-term loan balloon payment is fully repaid at maturity; if not, the interest rate is 17.99%.
5 Rates shown include a 2.00% discount for automatic loan payments.

6 Rates shown are lowest possible rates for qualified buyers. Rates may change dependent on credit qualifications, underwriting factors, and loan characteristics.
7 Residences in certain counties and states may be eligible for a 0.50% rate discount after providing proof of registration in the the following programs:

a New York State NYSERDA program: 0.50%
b Colorado State RENU program: 0.50%
c Clean Energy Advantage "CEA" program in Montgomery County (MD) and Washington DC: 0.50% (d) City of Bloomington Green Home Improvement program: 0.50%

Short-Term Geothermal System Loan (i.e. Geothermal Tax Credit Loan)1 2

$3,000 to $90,000 Typically 30% Loan-to-Value3

12 or 18 months

7.49%4 5 6

Long-Term Geothermal System Loan1 2

$3,000 to $90,000 Typically 70% Loan-to-Value3

12 years

7.49%5 6 7

Long-Term Geothermal System Loan1 2

$3,000 to $90,000 Typically 70% Loan-to-Value3

15 years

7.75%5 6 7

Long-Term Geothermal System Loan1 2

$3,000 to $90,000 Typically 70% Loan-to-Value3

20 years

7.99%5 6 7
Got Questions? We've Got Answers
If you are applying for a non-solar clean energy loan, there is no requirement to work with a Registered Dealer.
If you are applying for a solar loan, please ask your solar contractor (aka dealer) if they are a Registered Dealer with Clean Energy CU before you apply. Click here for more details about our Registered Dealer requirement.
We recommend checking the Database for State Incentives for Renewables & Efficiency (DSIRE): dsireusa.org. We also recommend asking your clean energy contractor, vendor, or service provider as they can typically help you explore what incentives may be available in your area.
First, you need to ensure that you're eligible to join Clean Energy Credit Union by being in its "field of membership," which currently includes being one of the following:
A member of one of the following organizations:

An employee or volunteer of one of the following organizations:

A member of the immediate family or household of someone who is eligible via one of the above options or of someone who is already a member of Clean Energy Credit Union
If you're not already eligible to join Clean Energy Credit Union, you can consider joining one of the above organizations. An individual membership in American Solar Energy Society, for example, currently costs as little as $10 (NOTE: you must enter the discount code and select a Digital-Only Basic membership). Click here to learn more about the field of membership partner organizations listed above.
After confirming your eligibility, you would then open a "share account" (i.e. savings account) with a $5 minimum deposit which would serve as your ownership share in Clean Energy Credit Union. Once someone becomes a member of the Credit Union, they are a member for life. Click here to join Clean Energy Credit Union.
In case it helps, here's some background on what a credit union "field of membership" is: although credit unions provide similar services as banks, they are different from banks in many ways. For example, a credit union is a not-for-profit, financial services cooperative that exists solely to serve its members and to fulfill its mission, whereas a bank exists to maximize financial returns for its stockholders. Another difference is that a bank can serve the general public whereas a credit union can only serve its "field of membership," which is defined by regulators as the people and entities that are legally eligible to join the credit union. Ultimately, a credit union's field of membership is comprised of one or more groups of people and entities that all have something in common that binds them together in some way. Many credit unions have a field of membership that includes people who work for a certain employer, or who live in a certain geographic area, or who are members of the same professional association or religious organization.
Ready to Apply for a Loan?