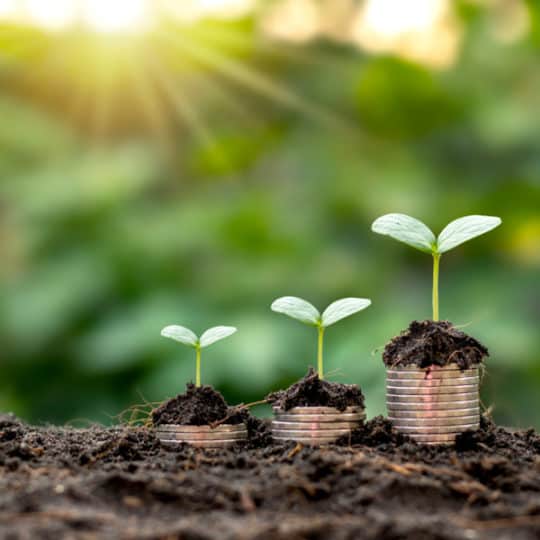 Certificates
Incredible returns for you and the environment.
Protect the Planet While You Earn & Save
Lock in a high rate for more savings with our secure, climate-friendly Certificate of Deposit (CD). You can open a CD with a low minimum deposit of $1,000 and offset carbon emissions while you earn and save.
Watch Your Money Grow with a CD
We're committed to ensuring your money is safe and has the potential to grow over time– which is why thousands of members trust us with their finances today.
Flexible Terms
We offer terms as short as 6 months and as long as 10 years. Just tell us what your goals are and we'll help you lock in a rate that's right for you and the planet.
Low Minimum Balance
With a low minimum deposit of $1,000, you can start earning interest on your money in no time.
Higher Annual Yield
With no maximum balance, there's no limit to the amount of interest you can earn on your certificate funds*.
Monthly Interest Payments
As you watch your money grow, you get monthly interest payments for your earnings each month.
No Maintenance Fees
Your earnings belong to you, which is why we don't ask you to pay maintenance fees.
Today's Rates
With a minimum deposit of $1,000, you can earn up to 4.02% APY on your balance while offsetting carbon emissions.
Clean Energy Certificate of Deposit (CD) Rates

Terms(2)

$1,000 – $24,999(1)

$25,000 – $99,999

$100,000+

(1) Minimum balance requirement = $1,000.
(2) Early withdrawal penalties may apply to certificates of deposits. See Truth In Savings for details.
(3) Dividend rates for an IRA clean energy CD are 0.05% higher than the standard rates shown here.
(4) One time only, during the 3 year term, member has the option to reset dividend rate to the rate in effect at the time of the
reset.

Dividend Rate(3)

APY

Dividend Rate(3)

APY

Dividend Rate(3)

APY

6 months

3.50%

3.56%

3.60%

3.66%

3.70%

3.76%

1 year

3.75%

3.82%

3.85%

3.92%

3.95%

4.02%

2 years

2.75%

2.78%

2.80%

2.84%

2.85%

2.89%

3 years

2.05%

2.07%

2.10%

2.12%

2.15%

2.17%

3 years (bump up option)(4)

2.00%

2.02%

2.05%

2.07%

2.10%

2.12%

4 years

2.10%

2.12%

2.15%

2.17%

2.20%

2.22%

5 years

2.15%

2.17%

2.20%

2.22%

2.25%

2.27%

10 years

2.25%

2.27%

2.30%

2.32%

2.35%

2.38%
Calculate the Potential Earnings for Your Dollars
Got Questions? We've Got Answers.
First, you need to ensure that you're eligible to join Clean Energy Credit Union by being in its "field of membership," which currently includes being one of the following:
A member of one of the following organizations:

An employee or volunteer of one of the following organizations:

A member of the immediate family or household of someone who is eligible via one of the above options or of someone who is already a member of Clean Energy Credit Union
If you're not already eligible to join Clean Energy Credit Union, you can consider joining one of the above organizations. An individual membership in American Solar Energy Society, for example, currently costs as little as $10 (NOTE: you must enter the discount code and select a Digital-Only Basic membership). Click here to learn more about the field of membership partner organizations listed above.
After confirming your eligibility, you would then open a "share account" (i.e. savings account) with a $5 minimum deposit which would serve as your ownership share in Clean Energy Credit Union. Once someone becomes a member of the Credit Union, they are a member for life. Click here to join Clean Energy Credit Union.
In case it helps, here's some background on what a credit union "field of membership" is: although credit unions provide similar services as banks, they are different from banks in many ways. For example, a credit union is a not-for-profit, financial services cooperative that exists solely to serve its members and to fulfill its mission, whereas a bank exists to maximize financial returns for its stockholders. Another difference is that a bank can serve the general public whereas a credit union can only serve its "field of membership," which is defined by regulators as the people and entities that are legally eligible to join the credit union. Ultimately, a credit union's field of membership is comprised of one or more groups of people and entities that all have something in common that binds them together in some way. Many credit unions have a field of membership that includes people who work for a certain employer, or who live in a certain geographic area, or who are members of the same professional association or religious organization.
Because we are a federally chartered credit union, all deposits will be federally insured up to the allowable limits (e.g. up to $250k per person or per organization). This makes opening a deposit account or buying a "clean energy CD" far less risky than any other kind of investment in the clean energy sector. Furthermore, with low minimum investment thresholds, regular people—not just big financiers—will be able to leverage their dollars to support clean energy through safe, sound investments.
All deposits in Clean Energy Credit Union are insured by the National Credit Union Share Insurance Fund (NCUSIF). According to Wikipedia: "[The NCUSIF] is administered by the National Credit Union Administration (NCUA) for the purpose of providing deposit insurance to protect deposits of credit union members at insured institutions in the United States. It was created in 1970 shortly after the creation of the NCUA as an independent regulator of credit unions. The NCUSIF is funded completely by participating credit unions, and no taxpayer dollars have ever been used to bail out a credit union. The NCUSIF is backed by the full faith and credit of the United States government."
If you only have a savings account, money market account, or Clean Energy CD, account statements are sent out at the beginning of each quarter. If you also have a checking account, any loan activity, or a CD that is maturing, statements will be sent out at the beginning of each month.
We strongly discourage paper account statements for two reasons: (1) protecting the environment is an important part of our mission, so wherever possible we try to reduce the use of paper as well as the need for shipping and transportation; and (2) Clean Energy Credit Union emphasizes a lean business model so that we can pass through the savings to our members in the form of better interest rates.
That being said, if you absolutely must have paper account statements, you can still sign up for them at the cost of $7 per statement.
Yes, you can either click on the "Chat" bottom at the top and bottom of each page on our website, or you can call us at 720-479-7900.
Our vendors and software for online/mobile banking functionality are among the best in the credit union industry, and they work with hundreds of credit unions throughout the U.S. In addition to providing us with secure software platform, they also host our servers and keep them secure. In addition, regardless of which vendors and software we use for our online/mobile banking activities, all deposits in Clean Energy Credit Union are federally insured up to $250k per person and per organization.
Open a Checking Account Today
Call Us
720-479-8000
Monday-Friday
10:00 am to 3:00 pm MST
Chat Us
Chat hours are Monday-Friday, 8:30am to 5pm MST.