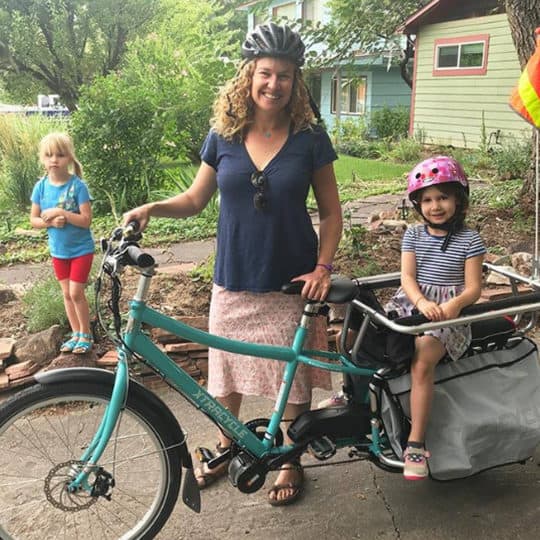 Electric Bicycle Loans
Make your commute climate-friendly with an e-bike loan.
Invest in Reliable, Carbon-Free Transportation
E-bikes are a simple, inexpensive, and super-fun way to reduce your carbon footprint and get around town.
Clean Alternative
Ride your e-bike to work, school, your nearest grocery store, or even plan a trip across the city to explore. No matter where you go, your e-bike is the cleanest transportation alternative for short trips nearby.
Flexible Terms
With 36 or 60 month terms, you can finance the electric bicycle of your choice with a consistent monthly payment.
Affordable Loans
No matter which e-bike you choose, we offer loan amounts from $1,000 to $15,000 so you can finance clean transportation within your means.
Fixed Rates
Keep your payments right where you want them with a fixed interest rate.
No Prepayment Penalties
Ready to pay your loan off early? We encourage you to prepay your loan payments with no penalty fees.
Automatic Payments
Never miss a due date with automatic electronic payments withdrawn from your checking account or credit card.
Today's Rates
E-Bike, Unsecured, and Share Secured Loans

Loan Type

Min/Max Loan Amount

Term up to

APR as low as

1 Loans must be used for qualifying clean energy products and services – see list here: www.cleanenergycu.org/eligibleproducts. (2) Loan processing fee: $100 due at funding.
2 Rates are rounded up to the nearest 0.25%
3 Rates shown include a 2.00% discount for automatic loan payments.

4 Rates shown are lowest possible rates for qualified buyers. Rates may change dependent on credit qualifications, underwriting factors, and loan characteristics.
5 Residences in certain counties and states may be eligible for a 0.50% rate discount after providing proof of registration in the the following programs:

a New York State NYSERDA program: 0.50%
b Colorado State RENU program: 0.50%
c Clean Energy Advantage "CEA" program in Maryland and Washington DC: 0.50% (d) City of Bloomington Green Home Improvement program: 0.50%

E-Bike Loan or Unsecured Clean Energy Loan1 2

E-Bike Loan or Unsecured Clean Energy Loan1 2

E-Bike Loan or Unsecured Clean Energy Loan1 2

Savings Account Secured Loan
Got Questions? We've Got Answers.
First, you need to ensure that you're eligible to join Clean Energy Credit Union by being in its "field of membership," which currently includes being one of the following:
A member of one of the following organizations:  

An employee or volunteer of one of the following organizations:  

A member of the immediate family or household of someone who is eligible via one of the above options or of someone who is already a member of Clean Energy Credit Union
If you're not already eligible to join Clean Energy Credit Union, you can consider joining one of the above organizations. An individual membership in American Solar Energy Society, for example, currently costs as little as $10 (NOTE: you must enter the discount code and select a Digital-Only Basic membership). Click here to learn more about the field of membership partner organizations listed above.
After confirming your eligibility, you would then open a "share account" (i.e. savings account) with a $5 minimum deposit which would serve as your ownership share in Clean Energy Credit Union. Once someone becomes a member of the Credit Union, they are a member for life. Click here to join Clean Energy Credit Union.
In case it helps, here's some background on what a credit union "field of membership" is: although credit unions provide similar services as banks, they are different from banks in many ways. For example, a credit union is a not-for-profit, financial services cooperative that exists solely to serve its members and to fulfill its mission, whereas a bank exists to maximize financial returns for its stockholders. Another difference is that a bank can serve the general public whereas a credit union can only serve its "field of membership," which is defined by regulators as the people and entities that are legally eligible to join the credit union. Ultimately, a credit union's field of membership is comprised of one or more groups of people and entities that all have something in common that binds them together in some way. Many credit unions have a field of membership that includes people who work for a certain employer, or who live in a certain geographic area, or who are members of the same professional association or religious organization.
E-bikes are defined as any bicycle that includes an integrated electric motor, but also retains the ability to be pedaled by the rider. NOTE: Electrified two-wheelers without pedals would be considered electric motorcycles, which are eligible for our clean energy vehicle loans.
Ready to Apply for a Loan?